Author: Anna Belfrage
Publisher:

Troubador Publishing
Date of publication: September 2018
In the long lost ancient past, two men fought over the girl with eyes like the Bosporus under a summer sky. It ended badly. She died. They died.
Since then, they have all tumbled through time, reborn over and over again. Now they are all here, in the same place, the same time and what began so long ago must finally come to an end.
Ask Helle Madsen what she thinks about reincarnation and she'll laugh in your face. Besides, Helle has other stuff to handle, what with her new, exciting job in London and her drop-dead but seriously sinister boss, Sam Woolf. And then one day Jason Morris walks into her life and despite never having clapped eyes on him before, she recognises him immediately. Very weird. Even more weird is the fact that Sam and Jason clearly hate each other's guts. Helle's life is about to become extremely complicated and far too exciting…
Enjoy this guest post from the author!
One of the major upsides of being an author is that one can write about stuff that is totally fascinating but probably not entirely possible. Take reincarnation, for example: most people would probably laugh it off as impossible—especially in our Western world conversations about things like wandering souls tend to make us shuffle our feet while looking desperately for an escape.
I have always been fascinated by reincarnation and time travelling. As a child, I spent a lot of time fantasizing about both of these concepts. At some point, I tried to convince my father that I was really a born-again medieval knight, but that unfortunately something had gone wrong gender-wise. He laughed – rather nicely – and told me he didn't think souls had a gender, but then he didn't think souls could be reborn either.
"But I feel it, here!" I said, slapping my as yet un-budding chest. "Sometimes, I feel as if I remember stuff, fights and blood and defending my king and…"
"That is called imagination," my father told me drily. "God knows you have plenty of that." He had a point, and as it was less than a week ago since my imagination had caused my sister and I to end up in a

somewhat precarious situation from which I emerged unscathed but my poor sister ended up with a severe concussion, I decided not to push.
My fascination with medieval knights and ladies in distress have resulted in a four-book series called The King's Greatest Enemy. My male protagonist, Adam de Guirande, does a lot of saving and defending, but it is his wife who rescues him when things get hairy. I am a firm believer in girl-power through the ages, i.e. I believe strong personalities, whether male or female, have rarely been restricted by their gender when the situation called for action.
As to the time travelling, well, I have done so aplenty with my alter ego Alex Lind, heroine of my 17th century series set in Scotland and the US. Now Alex would tell you time travelling is impossible—until it happens to her. That is more or less the same attitude Helle Madsen, female lead in A Torch in His Heart, has. "Reincarnation? Give me a break!" And then the poor woman finds out she has been cast as the protagonist in an epic love story spanning three millennia. Let's just say it comes as a bit of a shock…
What I find so intriguing about reincarnation as a concept is the why. Why would we be reborn? Now, I realise many people chuckle at the notion of our lives having any sort of ulterior motive. They do not believe in immortal souls, they believe we are but a biological construction with a best before date. Obviously, those peeps roll over laughing at the notion of multiple lives, so they find the "Why?" irrelevant.
Me, I have problems reconciling the complexity of people with a "biological construction". People are so much more than the sum total of bones, muscle, tissue, skin and all those amino acids, proteins etc. that bubble through our bodies. To me, the obvious explanation is that there is a soul, a collection of memories, experiences and wisdom that somehow just doesn't go "poof" and disappear the day we die. But hey, that might be wishful thinking…
From believing in a soul, the step to considering reincarnation as a possibility is relatively short. "Short?" Helle squeaks (Sheesh, she should have gotten used to the concept by now, but she has days when she is in serious denial) "Short? Let me tell you there is nothing short or easy about this reincarnation stuff, okay? Some sort of extended punishment, that is what it is, and how COULD you do that to my Jason?" She glowers, sparks shooting from her eyes. I smile inside, liking her use of possessive pronoun when it comes to Jason, male protagonist of A Torch in His Heart. So does he, stretching to his full length in a corner of my brain and giving the love of his life…err, lives…a proud look.
Anyway: Helle is right. I my book, reincarnation is very much about atonement, about desperately moving forward hoping for an opportunity to make right what was once made wrong. That is what drives Jason. In life after life, he looks for Helle, the woman he loved and lost in his first life. Jason was not exactly your loyal, honourable hero the first time round: he was an angry, badly hurt young man who lashed out and thereby indirectly caused Helle's death. Jason remembers that. Helle doesn't – at least not to begin with. In fact, Jason remembers ALL his lives. Helle remembers nothing, something she is eternally grateful for as she can't quite comprehend how someone can handle memories from fifty odd lives without becoming a basket case. I must hasten to add that Jason is not a basket case: intense, yes. Somewhat obsessed with Helle, yes. But crazy? No. Let's just say all those lives have distilled Jason, refined his good qualities—because basically he was a good person the first time round.
When it comes to Jason's (and Helle's) constant antagonist, Sam Woolf, all those lives have had the reverse effect, eradicating what little was good in him. Why? Because Sam has not aspired to atone or to develop spiritually. He has been driven by hate and a deep-seated desire for revenge, and such dark feelings have a corroding effect on our immortal souls. Well, at least that's my take on things. Jason and I are in total agreement on this: ancient souls as tainted with darkness as Sam's are best eradicated – but how on Earth does one do that? I guess that is what Jason and Helle have to find out, because if they don't, that long-desired Happily Ever After will probably never become more than a dream of riding off into the setting sun!
Purchase Links
About Anna Belfrage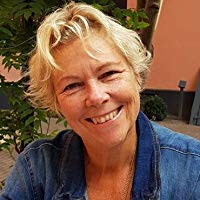 Had Anna been allowed to choose, she'd have become a professional time-traveller. As such a profession does not exist, she settled for second best and became a financial professional with two absorbing interests, namely history and writing. These days, Anna combines an exciting day-job with a large family and her writing endeavours. Plus she always finds the time to try out new recipes, chase down obscure rose bushes and initiate a home renovation scheme or two.
Her most recent release, A Torch in His Heart, is a step out of her comfort zone. Having previously published historical fiction & historical romance, with this first book about Jason and Helle Anna offers a dark and titillating contemporary romance, complete with a time-slip angle and hot & steamy scenes.
Connect with Anna
Instagram tour:

Review tour:
Thursday, May 16th: Sincerely Karen Jo
Friday, May 17th: Treestand Book Reviews
Monday, May 20th: Stranded in Chaos
Tuesday, May 21st: Becky on Books
Wednesday, May 22nd: The Romance Dish – author guest post
Wednesday, May 22nd: Bewitched Bookworms
Thursday, May 23rd: Lori's Reading Corner – author guest post
Friday, May 24th: Openly Bookish
Tuesday, May 28th: From the TBR Pile – author guest post
Wednesday, May 29th: Reading a Page Turner
Thursday, May 30th: Book Reviews and More by Kathy – author guest post
Monday, June 3rd: Cheryl's Book Nook
Date TBD – Wednesday, May 15th: A Fortress of Books